Grant Writing Done Right (Webinar)
February 11, 2021 @ 1:00 pm

-

3:00 pm

Free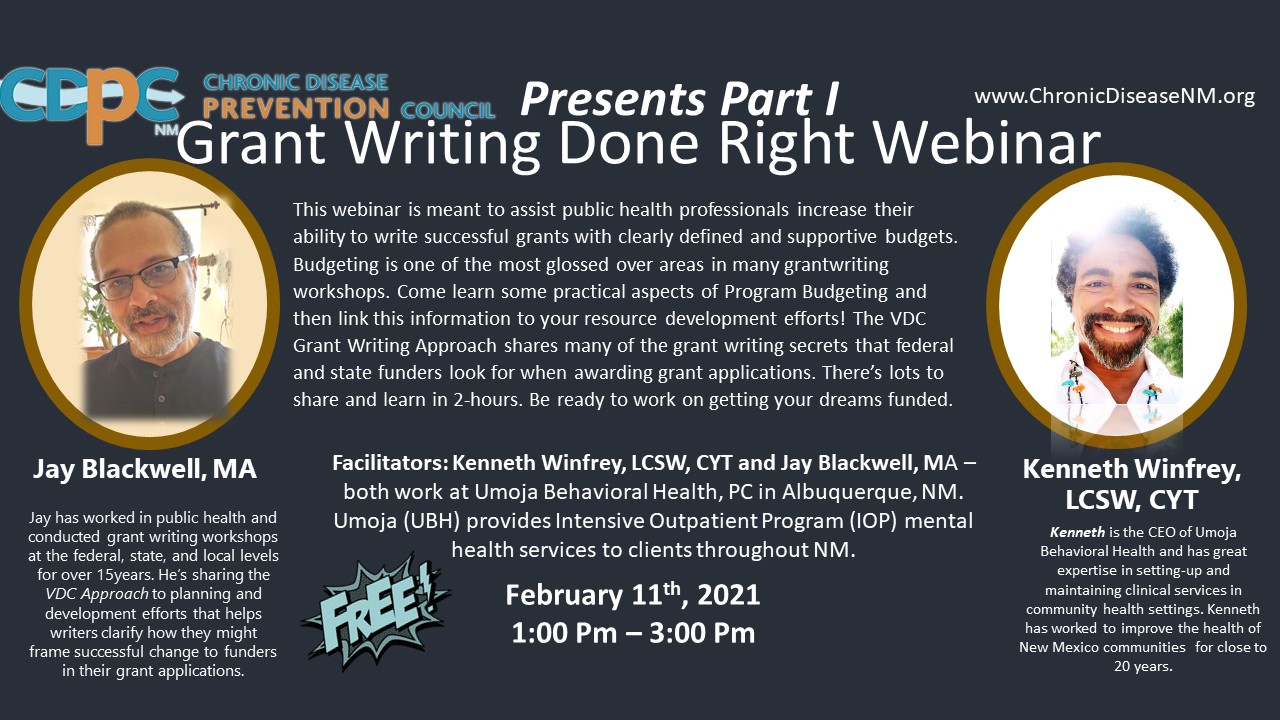 Join us as Jay Blackwell and Kenneth Winfrey deliver Part 1 of a training program that will enhance your performance in the areas of grant writing, grants management and grant research.
Grant Writing Done Right – Part I
This webinar is meant to assist public health professionals increase their ability write successful grants with clearly defined and supportive budgets. Budgeting is one of the most glossed over areas in many grant writing workshops. Come learn some practical aspects of Program Budgeting and then link this information to your resource development efforts! The VDC Grant Writing Approach shares many of the grant writing secrets that federal and state funders look for when awarding grant applications. There's lots to share and learn in 2-hours. Be ready to work on getting your dreams funded.
Facilitators: Kenneth Winfrey, LCSW, CYT and Jay Blackwell, MA – both work at Umoja Behavioral Health, PC in Albuquerque, NM. Umoja (UBH) provides Intensive Outpatient Program (IOP) mental health services to clients throughout NM.
Kenneth is the CEO of Umoja Behavioral Health and has great expertise in setting-up and maintaining clinical services in community health settings. Kenneth has worked to improve the health NM communities for close to 20 years.
Jay has worked in public health and conducted grant writing workshops at the federal, state, and local levels for over 15years. He's sharing the VDC Approach to planning and development efforts that helps writers clarify how they might frame successful change to funders in their grant applications.
Click HERE to register.
CDPC is focused on delivering a learning experience that absolutely pops – the kind of experience that gets people excited about the limitless possibilities of their work and imparts significant information in a way that's firmly retained, easily recalled and immediately applicable.